March 5-6, 2020
Orlando, Florida
Annual SCADA Users' Conference
New Venue. New Courses. New Insights.
Whether you are new to VTScada or a 30-year veteran, there is no better way to learn how to use VTScada to offer more to your customers than this two-day conference prefaced by three days of optional hands-on training. Meet the people who create and support VTScada and experience the refreshing corporate culture that has earned us a loyal international customer base.
VTScadaFest 2020 will be held at the Rosen Plaza Hotel on International Drive in Orlando Florida. This larger venue will give us space for even more training courses, seminars, and hands-on workshops.
Check out last year's promo video:
Who Should Attend
System Integrators
Consultants
Original Equipment Manufacturers (OEMs)
Project Engineers
Utility Directors and Managers
SCADA Operators
Why You'll Love It
Network with over 200+ SCADA professionals.
Talk 1-on-1 with Trihedral developers and engineers.
Deep-dive into technical presentations and hands-on workshops.
Take condensed training courses at all levels before the conference.
Optionally Start With Three Days of VTScada Training
March 2-4, 2020 – Before VTScadaFest begins, start with three days of training on the latest version of the software. Select one of the three courses offered Monday through Wednesday. Training registration includes your ticket to VTScadaFest! Although we have condensed a four-day course into three days, which does result in longer days, this format does allow you to cover all the material and save you one day in training time compared to our regular training courses.
Operation and Configuration
[Sold Out]
Operators and developers will learn about the many features of the VTScada monitoring and control software by creating a working, full-featured application from start to finish. This course will explain how to use the native display screens, connect to hardware, build new displays, work with alarms, configure security and much more.
Advanced Configuration
Experienced VTScada developers will learn advanced configuration techniques that allow them to go beyond the standard tools for building their applications. Knowledge of the topics covered in the Operation and Configuration course is strongly recommended for anyone considering this advanced course.
Scripting and Programming
[Sold Out]
This course is designed for VTScada developers who have experience creating applications and want to learn advanced skills and techniques. It assumes that you know the material in both the introductory-level Operation and Configuration course and the Advanced Configuration course.
VTScadaFest
Two Days of Technical Sessions. Pick Your Learning Path.
March 5-6, 2020 – See the sessions which mean the most to you. Whether you are an operator, IT professional, developer, planner, or consultant, we help you pick a path with sessions relevant to your interests.
Technical Sessions and Workshops
Learn to get the most from VTScada directly from members of our R&D and engineering group. Deep dive into topics like architecture design, IT and security, advanced protocols, integration efficiency, long-term growth, and more.
Real-World Case Studies
Consultants and end users describe how they used VTScada to solve their unique monitoring and control challenges in applications ranging from simple single server applications to enormous distributed systems.
Developers' Den
Between sessions, talk one-on-one with VTScada developers and engineers about your specific challenges in an informal setting. This is one of the more popular offerings at VTScadaFest.
Also Included
All-Access Conference Pass for Thursday and Friday.
Ticket for registrant PLUS one guest at our Thursday evening networking event with dinner, refreshments, and entertainment provided.
Evening Reception (Wednesday)
Lunch buffet (Thursday and Friday).
Coffee, beverages, and snacks during breaks.
VTScada conference kit bag.
Access to presentations and audio recordings after the conference.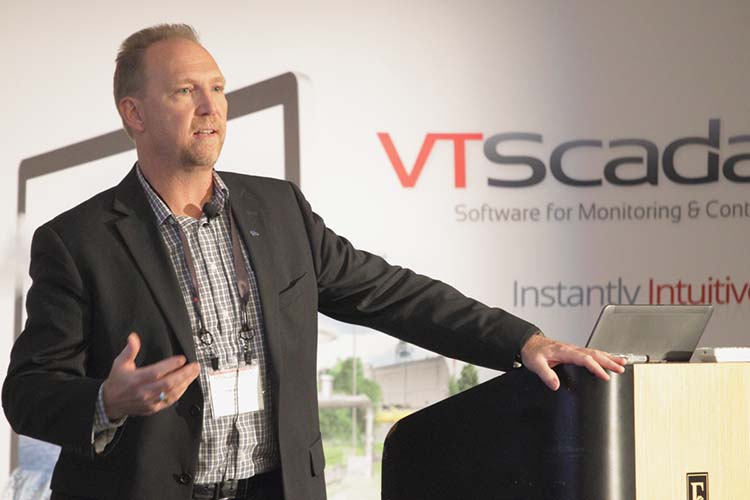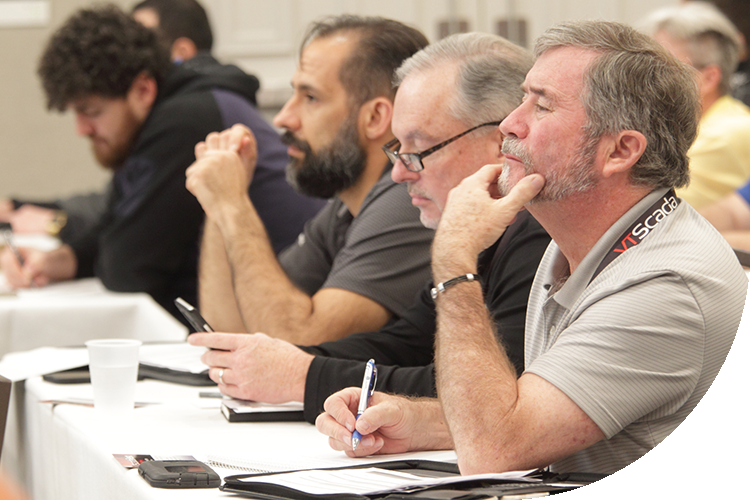 Five-Day Full Pass – Training + VTScadaFest
Price: $1,500
March 2-6, 2020 – Training plus the the full event. Learn new features and efficient application construction as well as getting to join special presentations, only given at VTScadaFest.
Select one of the options below to register for the Five-Day Full Pass:
Course Full – Ops and Config Course
Five-Day Pass – Advanced Course
Two-Day Pass – VTScadaFest Only
Early Bird Price: $475 (Valid May 20, 2019 to December 24, 2019)


Standard Price: $625 (Valid December 16, 2019 to February 20, 2020)


Late Registration: $775 (Valid February 21, 2020 to March 1, 2020)

March 5-6, 2020 – Differentiate yourself with insider knowledge, only given at VTScadaFest.

Select one of the options below to register for the Two-Day Technical Session Pass:

Register Now*
(Tax Exempt Entities)

*If you are a tax exempt entity (ex. city, municipality, school, utility, non-profit), and you have a valid Consumer's Certificate of Exemption (ex. DR-14), please use the Tax Exempt button above. Please note that for purposes of this exemption, a resale certificate will not suffice. Tax exempt entities will need to provide a sales tax exemption certificate upon request.
Stay At The Rosen Plaza
This year VTScadaFest will be held at Rosen Plaza on International Drive, Orlando, Florida This larger venue gives us space for even more training courses, seminars, and hands-on workshops.
Due to the overwhelming response to VTScadaFest, room inventory is very low at the Rosen Plaza, so please act fast to secure your rooms by using the link below or call direct (+1 407-996-9700) and reference Trihedral and VTScadaFest to book with the conference hotel.
Note: If you are not able to book at the Rosen, please note that there are several other fantastic hotels in the immediate area.