Standard in VTScada Development Runtime Licenses
Create Your SCADA Masterpiece
The VTScada Idea Studio is a familiar ribbon-based SCADA graphic development interface that helps you get started in creating high-impact displays in minutes. Drag-and-drop a wide variety of tag animations, meters, buttons, switches, symbols and images.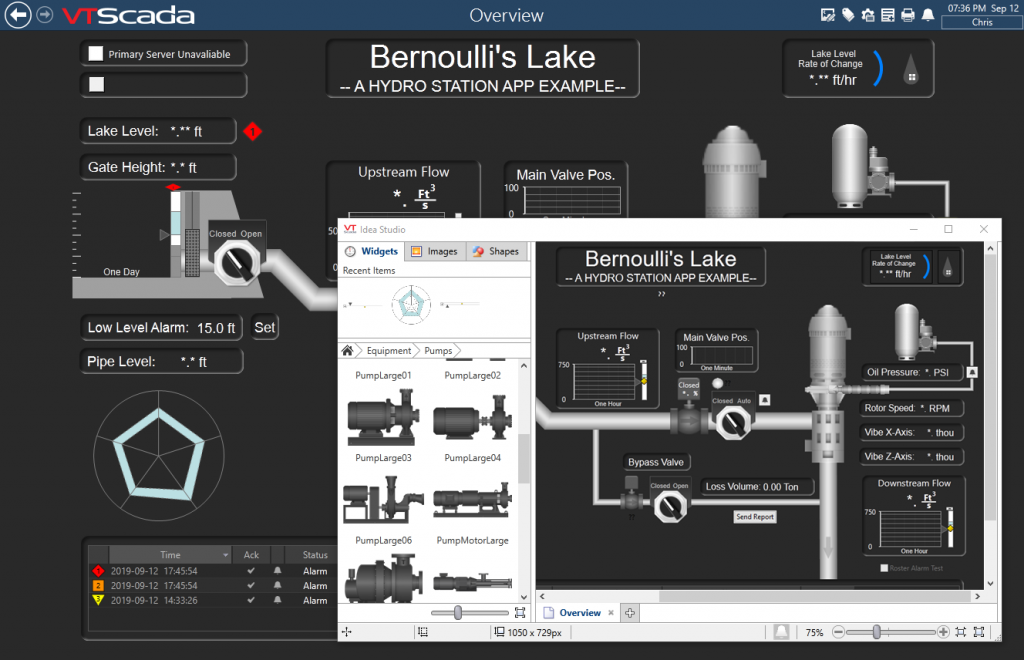 Draw and edit striking 3D pipes with just a few clicks. New selection and alignment tools make it easy to keep your displays looking sharp and professional. Divide system information logically across multiple pages that can be easily navigated by customizable menus, buttons and hotboxes.
Draw first; add tags later, or vice versa
Develop applications the way you want. If you like to lay out graphics first, you can do that. If you prefer to start by creating all your tags, you can do that too.
Draw with Data
To make it even easier to create high-impact displays, version 11 introduces over 200 'widgets'. Widgets are animations, used to display information about your system. Meters, numeric displays, clocks, buttons and custom alarm displays are all examples of widgets.
To add a widget, open a folder corresponding to the tag type you want to draw, drag the appropriate widget from the palette to the page, and then link the widget to the particular instance of the tag that it is to represent.
You can even create your own widgets to represent equipment that are unique to your application. You can define widgets to be linked to one tag, or to complex tag groups having many child tags. These allow you to add complete new assemblies such as lift stations, in one step.
More Images and Symbols
The expanded VTScada Graphics Library now contains over 4,500 symbols and graphics. Easily search, sort, or browse to the image you need. You can even drag your own images right onto your displays from your desktop or documents.
True Color SCADA
To help create vibrant looking displays and reports, VTScada now supports 24-bit/32-bit 'true color'. Use the color selector to pick from more than 16 million colors. Script functions also support true color graphics.
Real-Time Configuration
Since this is VTScada, you can create and edit displays online and push applied changes to all networked servers and thin-clients without restarting the application. While developing, you can easily switch between Runtime and Development modes.
Import BMP, JPG, WMF and EMF
Photo-real meters, clocks, compasses, and HOA switches
Draw grids of tags and their values
Add nested frames, check-boxes, and tabbed folders.
Create reusable drawing objects by grouping multiple graphics and tags
Import backgrounds, maps, watermarks
Add 3D graphics created with 3rd party software (Must be flat jpg, png, bmp)