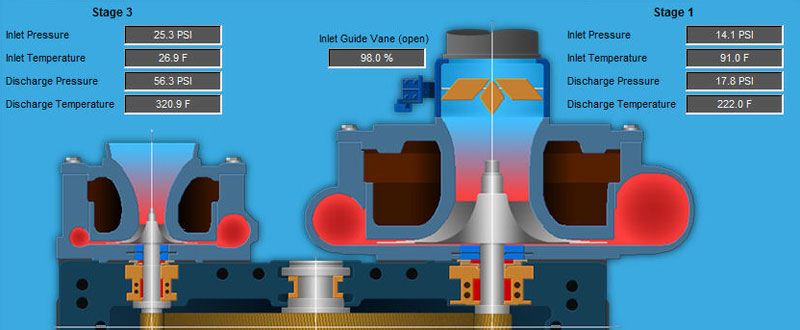 Easily build the application you want, around the I/O you've got.
It is important to note that nearly all of the features built into VTScada are industry agnostic. It is, as much a SCADA application building tool, as it is a tool for monitoring and control of applications. The instantly intuitive IdeaStudio means anyone can build the application they want around the I/O they've got.
Any application where you are looking to view, monitor, and record analog or discrete I/O is a good application to consider VTScada. From our free VTScadaLIGHT for small applications, to huge systems having hundreds of thousands of I/O, VTScada has licenses for applications of all sizes.
Niche Applications Running VTScada:
OEM's Manufacturing products such as Precipitators for Power Plants
Remote Solar Collectors
River Liming for Salmon Conservation
Wind and Tidal Energy Turbines
Traffic Signal Management
Firefighting Simulators for Ship and Aircraft
Environmental Monitoring
---
OEMs and Small Applications (< 50 I/O)
Small applications rejoice. Trihedral will provide a user or business' up to ten free VTScadaLIGHT licenses. This license is limited to applications with up to 50 I/O.
OEMs can who need more licenses, can purchase VTScadaLIGHT is application packages. Please contact us for pricing.
---

Gemini South Telescope
Paul Collins is the Electrical Supervisor at Gemini South, an optical/infrared observatory at the top of mount Cerro Pachón in Chile. For many years, Collins was frustrated by his inability to remotely monitor critical systems when the team was unable to travel up the mountain due to inclement weather. After trying many SCADA products, he discovered VTScada software by Trihedral, a comprehensive platform that could communicate with their diverse range of hardware using built-in, direct device drivers like Modbus and SNMP. Collins created a sophisticated application that allows remote observers to see critical information such as dome and shutter positions as well as alerts for rain, earthquakes, and loss of communications. The application even monitors vital systems such as UPS units, fire alarms, and the telescope's complex cooling systems.
Read the Case Study or Watch the Interview
---
Fire Station Alerting in San Francisco
Watch the full interview about how Mach Alert provides San Francisco with a full-featured fire station alerting (FSA) solution designed to provide state of the art functionality and reliability within the fire and medical alerting process. 
---
Hosted SCADA Solutions
VTScada works great for hosted applications. Our unlimited redundant servers and unlimited Thin Client packs mean that the sky is the limit for hosted applications.
Some of the largest pump manufactures in the world use VTScada as a hosted application.
Several of the largest cryogenic gas monitoring systems in the US and Europe are also running with VTScada.
---
Gallery: Niche SCADA