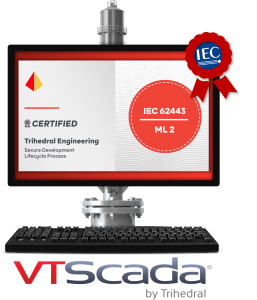 April 6, 2022 – Some of the largest automation systems in the world rely on VTScada software to ensure system uptime thanks to its advanced redundancy, powerful Historian, and real-time synchronization. Best of all, its unique integrated design means that these features are easily implemented by even the smallest SCADA applications. Now, after rigorous evaluation by exida, VTScada has once again risen to the high standards required to help keep our mission critical infrastructure safe.
About IEC 62443
VTScada's Development Environment is now certified to be in compliance with IEC 62443 Security for Industrial Automation and Control Systems – Part 4-1: Secure Product Development Lifecycle Requirements and meets the requirements for Maturity Level 2. This standard defines secure development life cycle (SDL) requirements for products used in industrial automation and control systems. This includes security requirement definitions, secure design, secure implementation (including coding guidelines), verification and validation, defect management, patch management and product end-of-life. These requirements can be applied to new or existing processes for developing, maintaining, and retiring hardware, software, or firmware.
About exida
exida is a world leader in product certification specializing in automation system safety, alarm management, cybersecurity, and availability. After rigorous evaluation, exida publicly issued the certification for VTScada software on April 1st.
This IEC certification is just one more way in which VTScada brings mission critical resilience to applications of any size. See the certificate here:
https://www.exida.com/SAEL-Security/trihedral-engineering-limited-secure-development-lifecycle-process?fbclid=IwAR065U-1ZNvnbPEIfevlQ_3ot5Fx7CCkSwC0OtoDN2_2NzfMaBdPqUwFv6w
To learn more about the resiliency features in VTScada contact info@trihedral.com.