Over the course of ten years, a quiet agricultural town in the American Southeast experienced a surge in population thanks, in part, to its proximity to a growing industrial center. In 2018, the town's Public Works Department asked their integrator, Custom Controls Unlimited (CCU), to add a telemetry monitoring and control application to their newly upgraded electrical distribution sites. Rather than create a whole new SCADA application and telemetry network, they decided to incorporate these sites into the water/wastewater application that CCU had installed a year earlier using VTScada software from Trihedral. VTScada made it easy to split the single system into Realms allowing power and water/wastewater users to only see their own data and alarms while allowing managers to see both. Below, Nate Powell and Devin Carroll of CCU discuss how this combined approach is helping to save the utility time and money.
Custom Controls Unlimited – Based in nearby Raleigh, Custom Controls Unlimited serves customers in a variety of industries including water/wastewater, manufacturing, pharmaceutical, food processing, energy & utilities, and agriculture. Vice President, Devin Carroll, founded the company in his garage in 1998 while Control Systems Engineering Manager Nate Powell has been programming PLCs and SCADA systems for the company for over 13 years.
A Tale of Two Systems – The town's water/wastewater department oversees three elevated water tanks and over 30 remote lift stations, all using Schneider Electric Programmable Logic Controllers (PLCs). "On the power side, they've got two large substations and one smaller reclosing breaker," says Powell. "One of those substations has other associated equipment such as transformers, monitoring relays, and things like that. These are monitored and controlled via Schweitzer PLCs. The two separate systems have separate radio networks both using unlicensed spread-spectrum radios. The water/wastewater side has got a serial radio system and the power side has an encrypted Ethernet system."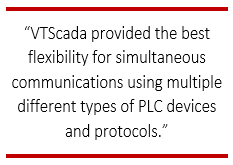 VTScada Software by Trihedral – For the initial water/wastewater project, CCU chose VTScada by Trihedral as the SCADA software platform. "We've been using VTScada since the early 2000s," says Powell. "Dealing with their support has been wonderful." Carroll continues, "VTScada provided the best flexibility for simultaneous communications using multiple different types of PLC devices and protocols." In addition to communication drivers, the software also includes a comprehensive suite of features such as an enterprise historian, reports, operator generated trends, remote access, and ISA 18.2 alarm and event management tools. Designed for mission-critical systems, VTScada supports instant failover between any number of SCADA servers. "They now have a dual server setup," says Powell, "Currently, both servers are hosted at one of their water tanks." If the primary fails, the secondary server takes over polling and logging automatically. All historical and configuration data bi-directionally synchronise when any offline server is restored.
One App to Rule Them All – "About a year later, the Public Works Department was looking to do some upgrades on hardware at one of their power substations," says Powell. "While they were doing that, they wanted to add it to some sort of telemetry system. That's where we got involved with the power side." Rather than re-inventing the wheel, Carroll proposed an approach that would save the utility time and money by maximising the use of the town's existing infrastructure investment.
"We demonstrated the water/wastewater SCADA application to the power division," says Carroll, "and they wanted the same reliability and flexibility with mobile connectivity. We also suggested that the radio communications infrastructure was in place already allowing for easy access to the remote locations over the water/wastewater wireless SCADA network." Powell adds, "Their power side uses the DNP protocol and VTScada has a direct DNP interface." The town agreed with this proposal and CCU expanded the existing application to include both systems.

The Power of the Realm – "One of the VTScada features that was very helpful in this application was VTScada's Realm Filtering," says Powell. "The ability to separate users into people who need access to the water/wastewater side versus people who need access to the power side."
Additionally, VTScada allows developers to model complex real-world objects using tag hierarchies (i.e., parent and child tags). For example, a single lift station parent tag can contain all the child tags associated with that structure. This simplifies the process of adding new sites and displaying them in the HMI. It also allows authorized managers to add high-level parent tags (along with relevant area properties) to Realms that correspond to specific groups or departments. These Realms can be added to the security accounts for individual operators. Once logged-in, these users can only see and acknowledge alarms, run reports, create trends, or see tags in the VTScada Tag Browser that are found in the tag hierarchies for the Realm to which they belong. Managers can also use security account privileges to prevent operators from one department from seeing screens belonging to another.
Realms also play an important role for remote VTScada's Thin Client access and Alarm Notifications. Says Powell, "They direct alarm notifications to one group of people or another depending on which Realm that they exist in. Also, their users interact with the system entirely through Thin Clients. The simplicity of VTScada Thin Clients and how seamlessly they work with Realm Filtering is a big help for us. It does require a significant amount of planning from a tag structure point of view, but once you have the structure in place, it's the easiest to work with. We find it quite reliable. We've done this with quite a few of our customers. We really like the process. If you follow the VTScada Help files, the Realm setup process is easy enough."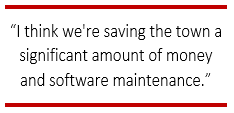 Concrete Savings – "Overall this combined application was mutually beneficial to both Water and Power divisions and allowed for a shared cost of the communications network, SCADA software, and server hardware," says Carroll. With connectivity to both systems, the power side got the added benefit of having visibility into power outage nodes everywhere that a water or wastewater RTU was installed. I think we're saving the town a significant amount of money and software maintenance. They get a single point of contact for issues and troubleshooting and technical support."
For More Information
Contact Devin Carroll at Custom Controls Unlimited.
Screenshots are scrubbed of utility information.