The City of Medicine Hat (Population: 60,000, Location: Southeast Alberta, Canada) has long been known as "The Gas City" for the vast natural gas fields that surround it. The City's gas distribution department supplies natural gas to over 26,000 residential, commercial, and industrial customer locations.
The department also provides customer service, engineering, construction, operation, and maintenance of distribution facilities to ensure a safe and reliable service for all of its customers.
A Turnkey Gas Distribution SCADA Upgrade
The City worked with a prime contractor, MPE Engineering Ltd., for the specification, procurement, and installation of all required hardware and software components to provide a fully functional turnkey SCADA system upgrade. Zane Spencer, Project Manager and Controls Technologist for MPE, describes the project, "The work involved the upgrade of an existing FactoryLink SCADA system."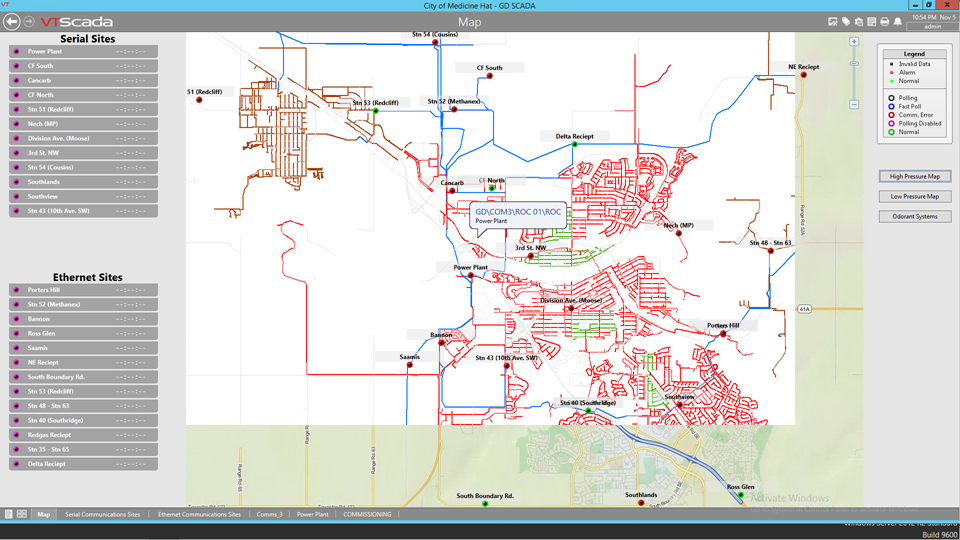 VTScada Software From Trihedral
To provide monitoring and control of the new system, MPE selected VTScada software from Trihedral. "We chose VTScada because of the outstanding integrated features and exceptional product support," says Zane.
Sub-consultant, Quintessential Computing Services Inc. (QCSI) was brought in to assist with developing the automated reporting system and address potential integration with other gas distribution system specific software applications.
Developed and Tested Without Downtime
"The VTScada system was designed and tested in parallel to the existing system to eliminate system downtime," says Zane. "We completed the project under-budget with no disruption to operations or significant system failures during the switchover from the legacy to the replacement system."
The total project was completed in nine months, April to December 2015.
The Completed System:
26 Meters
5 Odorant Stations
1,600 Licensed Tags
Dual Server Premium VTScada Bundle
ROC100, ROC300, ROC800 Series Flow Computers
Communications via Serial Radio (400 MHz), Ethernet Radio (5.8GHz)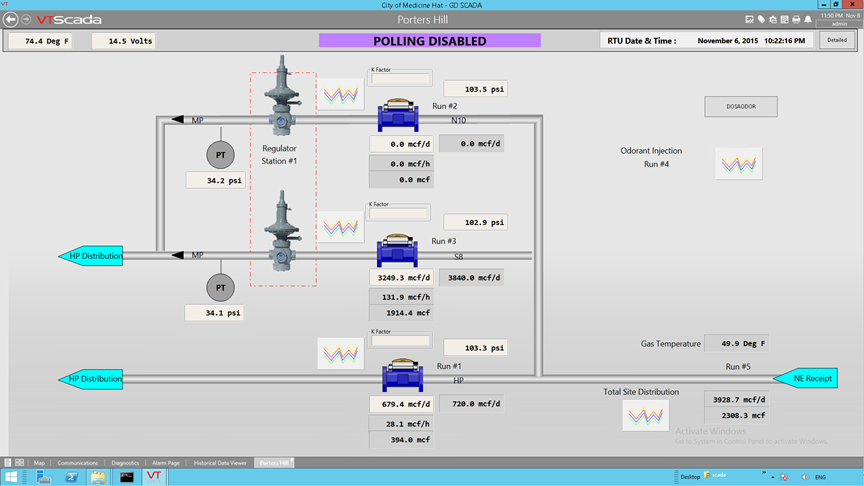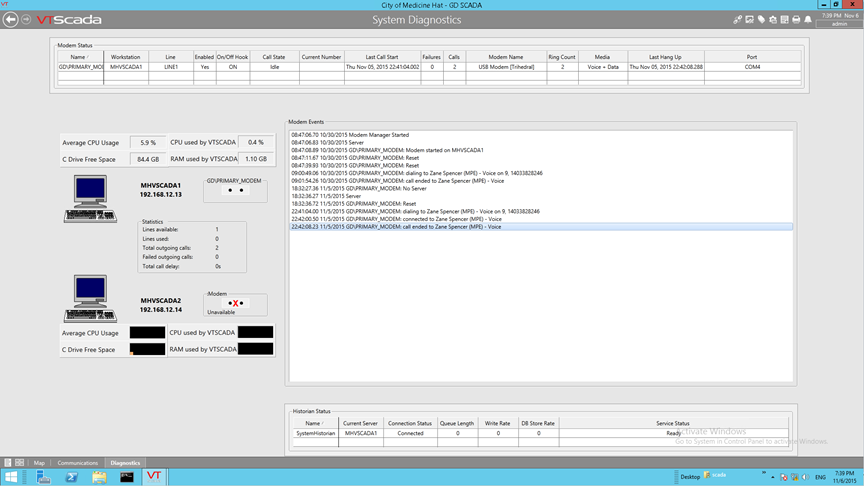 About Quintessential Computing Services Inc.
QCSI has many years of experience executing and assisting the implementation of upstream, midstream and downstream oil and gas related SCADA projects. As an Advanced VTScada Integrator, QCSI can help you with turnkey SCADA host implementations, migrations, upgrades and much more. www.quintessentialcomputing.com
About MPE Engineering Ltd.
MPE is a medium-sized engineering consulting firm providing a full range of professional engineering services, including automation and controls system integration, to varied clients throughout Western Canada. Since 1983, the company has grown to eight regional offices in Calgary, Edmonton, Lethbridge, Medicine Hat, Red Deer, Brooks, Saskatoon and Regina with over 240 employees. www.mpe.ca