Award for SCADA and HMI Systems
Trihedral Engineering, a Delta Company, is proud to announce that they have again been recognized as a leader in the field of mission critical industrial automation. This Fall, Trihedral was awarded the 2022 Global Technology Innovation Leadership Award for SCADA and HMI systems from Frost & Sullivan (www.frost.com), a research and consulting firm specializing in fostering and recognizing excellence in the field of industrial systems.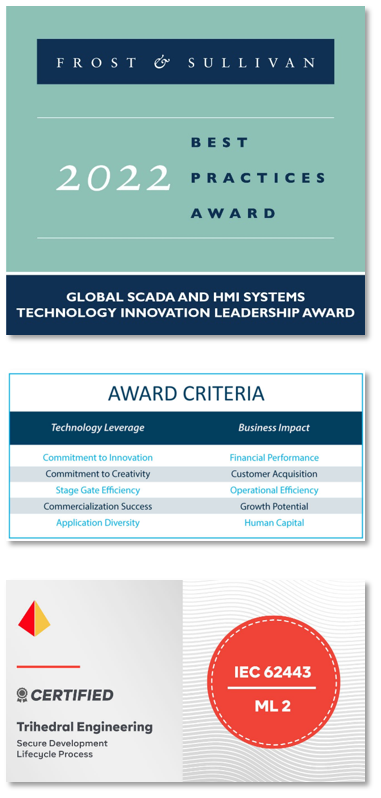 For Systems That Can't Fail
Some of the largest automation systems in the world rely on VTScada, Trihedral's flagship software platform, to ensure system uptime and data availability. Its unique integrated design ensures that its mission critical features are easily implemented by even the smallest industrial applications.
Award Criteria
"Frost & Sullivan applies a rigorous analytical process to evaluate multiple nominees for each award category before determining the final award recipient (see chart, right). The process involves a detailed evaluation of best practices criteria across two dimensions for each nominated company. Trihedral excels in many of the criteria in the SCADA and HM/ systems space."
"Frost & Sullivan identifies Trihedral's VTScada as a ground-breaking innovative technology. Its robust intellectual property portfolio safeguards its pioneering technology, adding value relative to its growth potential, thus securing a competitive edge." – Samantha Fisher, Best Practices Research Analyst
A History of Innovation
Trihedral Vice President Barry Baker was pleased to receive the good news. "For over 35 years we have pushed ourselves to look for better solutions and not simply copy what others do," says Baker. "That has meant developing all our own core technology rather than simply tacking on third-party components that may not work in five years. We developed one of the first reactive programming languages and our approach to redundancy and synchronization goes beyond what anyone else is doing. I'm proud of what we've been able to offer our customers with mission -critical systems."
Other Recent Recognitions
Earlier this year, exida, a world leader in automation system certification, announced that VTScada's Development Environment was in compliance with IEC 62443 Security for Industrial Automation and Control Systems Part 4-1: Secure Product Development Lifecycle Requirements, Maturity Level 2. This standard defines secure development life cycle (SOL) requirements for products used in industrial automation and control systems.
Learn Why Frost & Sullivan Awarded Trihedral for Leadership in Global Technology Innovation