A part of Metro Vancouver, the District of North Vancouver is located on the north shore of Burrard Inlet in British Columbia, Canada. The municipality is the second wealthiest city in Canada with a population of over 85,000. In this Q&A, Zane Spencer, a Project Manager and Controls Technologist for MPE Engineering, describes the process of replacing the utility's SCADA system with a single platform that could communicate with their PLCs via their Motorola IP Gateway network without the need for third-party software. He also describes collaborating with Trihedral, the creators of VTScada, to develop built-in tools to manage hardware redundancy for these proprietary devices. "This was a fun project which uses some of the new features available in VTScada 12."
System Details
Plants/Remote Sites: 48 including Sewage Lift Stations, Water Pumphouses / Reservoirs, PRVs
HMI Software: VTScada by Trihedral
Servers: 2 redundant servers with synced historical, alarm, event, and configuration databases
HMI licenses: VTScada Dual Server Premium license
Thin (mobile) Clients: Unlimited
PLCs/RTUs: Motorola ACE / MOSCAD RTUs
Can you tell us about MPE?
"We support hundreds of SCADA installations at municipalities across western Canada. These are typically water treatment plants, booster stations, lift stations, and wastewater treatment plants. Project sizes range from small systems to large cities. MPE has helped municipalities with typical legacy applications suffering from a variety of issues, from poor initial design to lack of built-in functionality."
What was the reason for replacing the legacy SCADA?
"The District needed to replace an obsolete front-end-unit with a new redundant Motorola IP Gateway. This meant that they needed a system which included the required communication drivers to communicate with their existing field sites and needed to rebuild the SCADA system to work with the new communications driver. VTScada was one of the few acceptable solutions that could connect with Motorola RTUs and the team at VTScada committed to implementing a redundant version of their existing IP Gateway driver."
Can you describe the SCADA software selection process?
"Through a public Request for Proposals process, the District received over ten respondents and after careful consideration, they selected VTScada as the software of choice and MPE Engineering Ltd. as the firm to implement their new system. To aid in their evaluation of software options, the District toured neighboring municipalities and discussed technical details of each system with SCADA technologists; some of these municipalities had already implemented VTScada."
"MPE has been a VTScada Certified Solution Provider since 2014. Our first VTScada project was driven by the integrated features and competitive pricing. Now, multiple staff members have been through the basic and advanced training courses and new employees go through the basic course in-house as we have enough experience to support them through the training process."
"Also, VTScada checked all the boxes with one software package that could handle I/O communications, runtime, development, remote access, alarm notification, and reporting. This was very important as the District had seen issues in the past with poor integration between SCADA and add-on software. When the specification required support for Motorola IP Gateway redundancy, VTScada committed to modifying their existing driver to meet this requirement."
What was the design process?
"The project included a significant preliminary design phase which included multiple workshops with District staff and resulted in a Design Basis document which laid out the system configuration, tag database standards, graphics conventions, and other relevant details. From there, the project moved forward into development and commissioning."
Can you tell us about custom screen development?
"MPE has taken great care to create and implement high-performance graphics and extremely standardized applications. We ported over standards from other applications into VTScada. Now that that has been done, we can rapidly develop standardized applications with outstanding functionality."
What new features did you use from Version 12?
Enhanced Built-in Mapping – "The system utilizedthenew CARTO® map tiles. The bulk tile download feature made it easy to pre-load the map tiles before deployment, as the final system would not have direct internet access."
Historical Data Import – "We exported data from the decommissioned Historian from 2010 onward and imported it into the VTScada application, resulting in no loss of historical data from the legacy system."
The Redundant Motorola IP Gateway Driver – "This was a firm specification and we were very happy to help the Trihedral team in the development and testing of the driver and are proud to be involved in its first real-world implementation."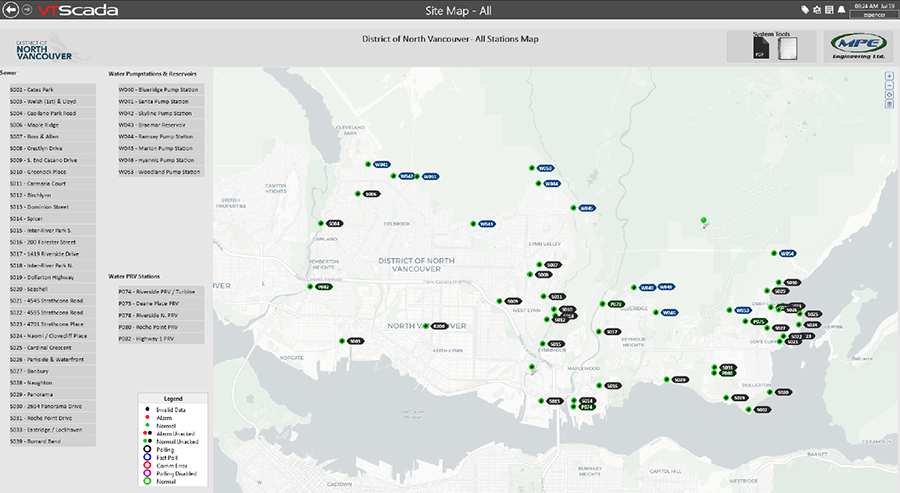 How did you design the testing process?
"Side-by-side testing with legacy systems is important to MPE before handing the system off to the utility. We were able to create a full test bench with a couple of RTUs, an old front End RTU (MCP-M), a new IP Gateway, the legacy SCADA application, and the new SCADA application. This allowed us to test all sorts of scenarios and refine our commissioning work plan in order to be confident on the day of installation. After the new hardware was installed on site, the old and new SCADA systems ran in parallel while we validated data points between the two. To track our progress, we made use of the Questionable Data flag built into VTScada tags, clearing each flag once the point was validated. The project required 18 weeks from start to finish, with commissioning requiring 2 weeks."
How has VTScada Internet Connectivity helped this application?
"Moving from two read-only remote licenses in the legacy system to unlimited Thin Client connections in the new VTScada application has been a great benefit. Field staff were issued tablets for easy remote access and there has been discussion about opening access for more staff throughout their organization."
Were there any surprise benefits?
"Yes, we love finding these hidden "Easter eggs" which are often unrealized. Firstly, by implementing the native VTScada Motorola IP Gateway driver, we reduced the complexity of accessing data from field stations and eliminated the need for add-on software. In the legacy system, adding sites required programming multiple devices and performing database translations. This is now simplified by communicating through the IP Gateway directly to field devices."
"Secondly, we configured VTScada's built-in Alarm Notification System to speak the alarm text in addition to playing the standard alarm sound. Field operators can hear this on their new tablets which they found to be a real benefit. During alarm testing, operators now leave the tablet logged in on a desk or cabinet at the station with the volume cranked up. They can then trigger alarms and listen for the announcement to confirm that it is accurate, rather than having to watch the SCADA screens and alarm summaries or wait for alarm notifications."
How does this system handle redundancy?
"This was very important to the District. The following components were all designed with redundancy in mind."
Two VTScada workstations, fully redundant to one another (runtime, development, alarming, IO drivers, historian, etc.).
Redundant network connections from each PC to a redundant switch stack (LACP trunks).
Redundant IP Gateways (each with independent power supply and battery backup).
Redundant system power supply with two independent UPS'.
Cold spare backup for main network router.
Tell us about the finished system:
"The new system is a secure, scalable and robust application built on modern principles of SCADA development and industry best practices. Through MPE's experience and Trihedral's dedication to continuous enhancement to VTScada, the solution required minimal customization to meet the District's needs. It meets their immediate requirements and has provided a solid platform for the continued expansion of their critical infrastructure."
What aspect of the completed system are you most proud of?
"The team. Between MPE, the District, and Trihedral, there were over a dozen people involved in this project who efficiently worked together to define and realize this successful project. It was through a collaborative project approach that all team members provided meaningful input, shared insights and concerns, and ensured that all stakeholders shared the same vision for the completed system."
What was it like working with the VTScada team?
"Collaborating with the people at Trihedral has been excellent. Hands down, they have one of the best software support teams for a SCADA product we have worked with. If the front-line guys cannot get an issue figured out for you, they are steps away from an engineer who can dig in further and provide a timely resolution. The fact is that Trihedral listens. Feature requests do not fall on deaf ears and some of ours have actually made it into mainstream releases."
What advice would you give Utilities looking to make a similar change?
"Go visit your neighbors and leave the sales guy at home. Talk to those who have put the product in and determine if they really like the solution."

A free version of our award winning SCADA software.
Perfect for small industrial and personal applications with up to 50 I/O.
Download VTScadaLIGHT