Tim Donaldson Heads VTScada Sales Office in New England!
We are pleased to announce that Tim Donaldson will be our newest Technical Salesperson serving new and existing customers across the Northeast from our sales office in Boston, Massachusetts.
Tim Donaldson – A native of New England, Tim brings 25 years of industrial automation experience as well as an intimate understanding of the needs of this market. He has held account manager positions for major software vendors who develop SCADA, HMI, and manufacturing intelligence software solutions.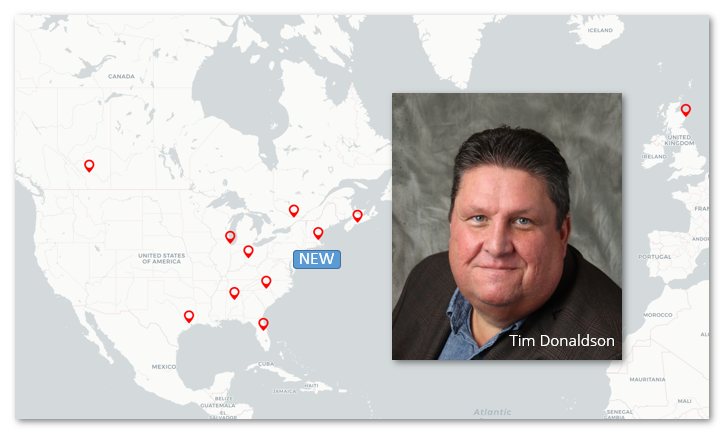 Local Presence, Local Success – Just four years after opening a sales office in Houston, Texas, the state is covered in new VTScada installations with dozens of new integrators and a strong demand for local training courses. Best of all, the City of Houston recently chose VTScada software as the sole SCADA software platform for their massive Northeast Water Purification Plant (NEWPP) Expansion Project. Our latest offices in Chicago and Dayton are showing similar results. The time is right to have a permanent presence in New England.
VTScada by Trihedral – VTScada is award winning software used around the world in industries such as water and wastewater, oil and gas, power generation, broadcasting, and marine solutions. Its intuitive features and unique integrated design allow developers to create world-class applications in less time and maintain them indefinitely.
11 Offices in 3 Countries – Based in Bedford, Nova Scotia, Canada, Trihedral has offices in Orlando, Florida; Aberdeen, UK; Houston, Texas; Calgary, Alberta; Chicago, Illinois; Birmingham, Alabama; Dayton, Ohio; Ottawa, Ontario; Charlotte, North Carolina; and now Boston, Massachusetts.
A VTScadaFest Welcome – Tim's first day of work will be March 2nd at VTScadaFest, our Annual User's Conference in Orlando, Florida. This sold-out event will be our biggest yet with more presentations, training courses, workshops, and networking opportunities. You will likely find Tim in our famous Developers' Den where attendees talk one-on-one with VTScada developers.
Ask for a Live Demo – Tim is looking forward to working with our established base of users in New England as well as introducing VTScada to integrators, OEMs, and end users looking for fresh solutions to their persistent problems. If you and your team would like a live demo of a running VTScada application, Tim would be happy to do it; in person or by webinar.
Tim Donaldson, Technical Sales
tim.donaldson@trihedral.com
(617) 877-6660